Finally watched the last episode of Gossip Girl (Season 2) in my laptop.
It (episode 17) had been in there for weeks but I didn't watch.
After watching the intimate action between Dan Humphrey and Rachel Carr



*What a way to end an episode*

I went to check out how many more episodes there is for Season 2.
Ended up in IMDB checking out the total number of episodes and the airing time (in US)
It looks like it has 22 episodes and the last one will be aired on April 27.
*Oh well, long wait to go*

Instead of watching Heroes Season 3, I hanged out in IMDB abit reading about certain cast that caught my eye.
*I've started to like Chuck Bass right before his dad died in the freak accident*
The things that I mainly read is the filmography of the cast just to see if I've ever seen them before.

*Flips to Jenny Humphrey*
*Scroll down to Filmography*
*Reads - How Grinch Stole Christmas*
*Gasps!!*

Jenny Humphrey played Cindy Lou Who in that movie??!!!
Can hardly imagine!!!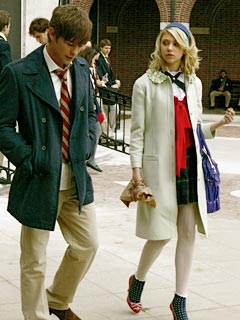 *Jenny Humphrey*



*Cindy Lou Who*

OMG!!! Can you spot the resemblance??


*I never knew*

LOL!!! This girl sure grew up BIG!!!
Can't really recognise her.
Her real name is Taylor Momsen. Born in 1993.
*If you want to know la!!*

So, who else likes Jenny Humphrey?
I know Ee Ling likes her~